The Baby-Sitters Club
. My favorite series growing up. I read them all the time. I re-read them. I saw the movie. I was in love with the series--the regular series,
Super Specials
,
Mysteries
,
Super Mysteries
,
Portrait Collection
,
Special Edition
,
Friends Forever
, and the spin-offs:
Little Sister
and
Kids in Ms. Coleman's Class
. Now, I have not read
California Diaries
, but I am hoping to find some used copies as I am looking for used copies of the books in the BSC that I am missing. Yeah, unfortunately, my series is incomplete. I have not read the final book where they graduate. They graduate the 8th grade. I need to get on the ball and search those used bookstores. They have re-released the books in new editions, but I want the old ones not the new ones. I have not checked out the graphic novels based on the series, but maybe I will. I don't know.
I read my first BSC book when I was in second grade (1989). It was
#13 Goodbye, Stacey, Goodbye
which is about Stacey's dad getting transferred back to New York City. I was hooked after reading that book. It didn't just get me into the BSC. It got me into reading. I was a reader before, but now I was reading chapter books.
I don't think I have a favorite baby-sitter. Depending upon my mood, I will choose a different girl--Kristy, Claudia, Stacey, Mary-Anne, Jessi, or Mal. Shannon, Logan, and Abby have never really been a favorite of mine, not to say I dislike them, because I don't! I do find I relate to both Mallory (especially when I had braces) and Mary-Anne the most. I don't have a favorite sitting charge.
Ten Facts About the Baby-Sitters Club:
First book, Kristy's Great Idea, was published in 1986.
Last book, Friends Forever Super Special #2: Graduation Day was published in 2000.
Including BiTs (Baby-Sitters in Training) and failed BSC members there have been 17 babysitters. This does not include Abby's sister, Anna, who declined to join. It does include the two Baby-Sitter Agency sitters who pranked the girls by pretending to be members.
Stoneybrook is a fictitious town in Connecticut created by Ann M. Martin. The nearest city, Stamford, is real.
1990, TV show was filmed. It has aired on Disney, Nickelodeon (according to Wikipedia, but this I do not remember), and HBO. Danny Tamborelli of Pete and Pete and All That fame starred as The Walking Disaster, Jackie Rodowsky.
1995, The Baby-Sitters Club movie was released with Schuyler Fisk as Kristy Thomas; Rachel Leigh Cook as Mary-Anne Spier; Bre Blair as Stacey McGill, Larisa Oleynik as Dawn Schafer; Christian Oliver as Luca, a 17-year-old boy 13-year-old Stacey has a crush on; Ellen Burstyn as Mrs. Habersham, Mary-Anne and Dawn's next door neighbor; Austin O'Brien as Logan Bruno; Marla Sokoloff as Cokie Mason; Bruce Davison as Watson Brewer; Kyla Pratt as Becca Ramsey; and Scarlett Pomers as Suzi Barrett.
Not including the spinoffs there are 218 titles in the complete series.
Three spin-offs: Little Sister about Kristy's stepsister, Karen Brewer; Kids in Ms. Coleman's Class actually a spin-off of Little Sister about the kids in Karen's second grade class; and California Diaries stories about Dawn's friends in California.
Prequel: The Summer Before was published in 2010. This is one month before the series was re-released with a new cover for a new audience.

All the handwriting in the novels was created by one person in Scholastic's art department!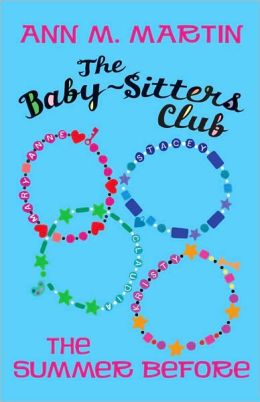 For more information on the series check out: